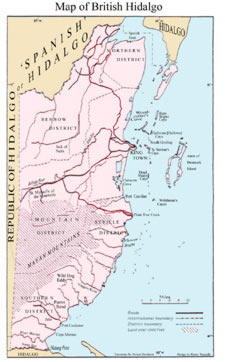 British Hidalgo
___________
"A place that you can put your arms around"
— Avram Davidson
The country of British Hidalgo exists on no map known to contemporary geographers, yet this tiny Central American country is richly evoked in the writings of Avram Davidson. The seven stories featuring Jack Limekiller are rooted in Davidson's two-month visit to British Honduras in 1965-1966, when the question of independence was a burning issue in the colony. Davidson also drew upon his experiences during a prolonged period of residency circa 1968-1969. (See Hugh Leddy's memoir in The Nutmeg Point District Mail Vol.IV, No.4-5). Not long after Davidson's visits, British Honduras became the independent country of Belize.
In 1966, Davidson completed a nonfiction travelogue, Dragons in the Trees (still unpublished), that would later serve him as a textual source for the creation of the fictional British colony, its physical and human geography, and its history (Map of British Honduras in the 1960s [53K]). Three excerpts from Dragons in the Trees were published in The New York Review of Science Fiction (June 2000).
In the Limekiller stories, Davidson retraced much of his Dragons in the Trees itinerary and transmuted his earlier observations into a work unique in modern fantasy. These six "canonical" Jack Limekiller stories are collected in ¡Limekiller!, edited by Grania Davis and Henry Wessells (Old Earth Books, 2003) :
"Bloody Man" (Fantastic Magazine, Aug. 1976).
"Manatee Gal, Ain't You Coming Out Tonight" (Magazine of Fantasy & Science Fiction, Apr. 1977).
"A Good Night's Sleep" (Magazine of Fantasy & Science Fiction, Aug. 1978).
"There Beneath the Silky-Tree and Whelmed in Deeper Gulphs Than Me" (Other Worlds 2, Ed. Roy Torgeson. New York: Zebra, 1980).
"Limekiller at Large" (Asimov's, June 1990).
"A Far Countrie" (Asimov's, Nov. 1993).
Also of interest is a story Davidson wrote using a pseudonym (but published bearing his name in Adam Magazine in 1968), "The Beasts of the Elysian Fields by Conrad Amber" This story features a rather stereotypical macho adventurer figure who bears the name Jack Limekiller; the description of this "proto-Limekiller" is nearly word for word that of Alex Brant, White Hunter, who is Limekiller's loathly opposite in "A Far Countrie," a story Davidson wrote and published more than a quarter century later.
Henry Wessells has published an essay looking at the connections between Dragons in the Trees and the Limekiller series entitled "'A place that you can put your arms around' : Avram Davidson's Jack Limekiller Stories" (Foundation 69, Spring 1997, pp.44-60).
The large-scale