What Can Be Saved from the Wreckage ?
James Branch Cabell in the Twenty-first Century
by
Michael Swanwick

With a preface by Barry Humphries
Critical monograph examining the writings of Virginia fantasist James Branch Cabell (1879-1958), author of Jurgen .
6 x 9 inches, viii+54 pp.
Now an e-booke !
Price $10.00 (in pdf, mobi, & epub formats, DRM free), distributed by Weightless Books.
ISBN : ISBN 0-9961359-3-6 ISBN-13 : 978-0-9961359-3-1
It is hard to imagine today the magnitude of James Branch Cabell's fame in the early part of the last century. Cabell's books were Mark Twain's chief reading in the great humorist's declining years. Theodore Roosevelt received him at the White House. The occultist Aleister Crowley harried him with fan letters. H. L. Mencken was his advocate. Sinclair Lewis, accepting the Nobel Prize for Literature in 1930, mentioned him as one of a number of writers who might reasonably have won it.
Yet he died as good as forgotten.
MICHAEL SWANWICK
is author of the Hugo finalist
Hope-in-the-Mist
a monograph on the life and writings of of Hope Mirrlees (also an e-booke from
Weightless Books
). His novels include
The Iron Dragon's Daughter, Jack Faust, Stations of the Tide
, and
Chasing the Phoenix
, and his short story collections include
Gravity's Angels, The Dog Said Bow-Wow
, and
Not So Much, Said the Cat
(new from Tachyon).
BARRY HUMPHRIES is an Australian National Treasure, known worldwide for creating the role of
Dame Edna
.
What Can Be Saved from the Wreckage ? was originally published 31 October 2007 in an edition of 17 numbered copies, hand sewn and bound in a green cloth binding incorporating the original cloth covered boards of the Storisende edition, signed by Michael Swanwick and Barry Humphries, each copy with a leaf signed by James Branch Cabell. The edition was fully subscribed before publication. A trade issue, 200 copies in paper covers, distributed at World Fantasy Convention 2007, has sold out.

Temporary Culture is published by :
Henry Wessells
P.O. Box 43072, Upper Montclair, NJ 07043-0072 USA
Electronym : wessells@aol.com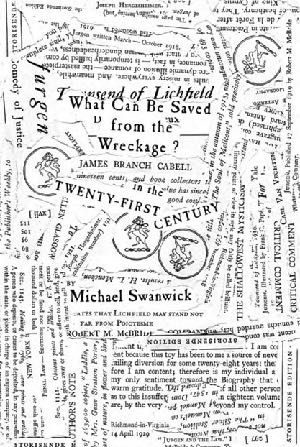 "Cabell is a problematic author [. . .] for those interested in learning more about Cabell there can hardly be a better or more readable beginning than Swanwick's monograph."
— James Sallis, Fantasy & Science Fiction
"Swanwick is an engaging critic, and his enthusiasm for what he likes is infectious . . . . There is gold in the past as well as in the present, and it's nice to have writers like Swanwick point out the treasures."
— Douglas A. Anderson
"movingly intense"
— John Clute, Excessive Candour, SFW 3 Sept 07
"This is the best literary monograph I have read in a long time."
— Darrell Schweitzer, NYRSF April 2008
"Michael Swanwick has ranged the considerable length . . . of the Cabell oeuvre, and come back with good news about the good stuff to be found there. If, say, the Library of America decides it needs a suitable editor to bring James Branch Cabell into the Black Jacket Club, I know just the man for the job."
— Steven Hart, author of The Last Three Miles
". . . a keen eye for Cabell's wit, inventiveness, and (yes) ribald good humor"
— Gregory Feeley, Philadelphia Inquirer
Orders to : Weightless Books.