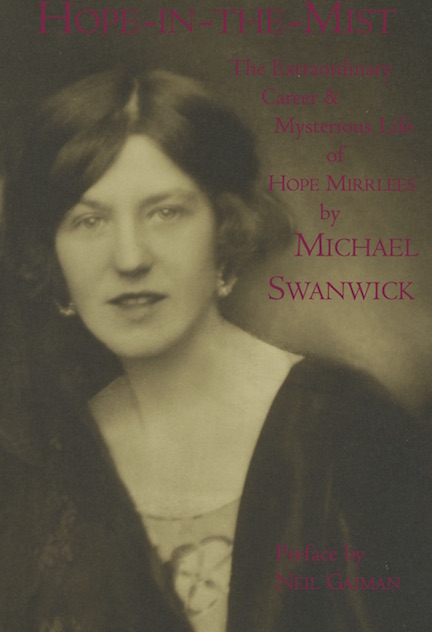 HOPE-IN-THE-MIST
The Extraordinary Career &
Mysterious Life of Hope Mirrlees

by Michael Swanwick

Preface by Neil Gaiman
The Hugo finalist Hope-in-the-Mist is now an e-booke !
ISBN 0-9961359-2-8 / ISBN-13 978-0-9961359-2-4
Price : $10.00 (in pdf, mobi, & epub formats, DRM free),
distributed by Weightless Books and available August 2016.
https://weightlessbooks.com/format/hope-in-the-mist-the-extraordinary-career-andmysterious-life-of-hope-mirrlees/
Temporary Culture is published by :
Henry Wessells
P.O. Box 43072, Upper Montclair, NJ 07043-0072 USA
Electronym : wessells@aol.com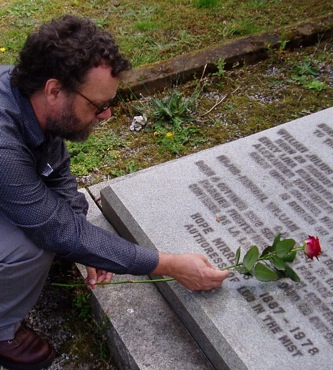 Photograph of the author courtesy of M.C. Porter.
Hope-in-the-Mist is the first book-length study of British author HOPE MIRRLEES, whom Virginia Woolf described as " her own heroine — capricious, exacting, exquisite, very learned, and beautifully dressed. " Raised in Scotland and Zululand, Mirrlees studied with the great classical scholar Jane Harrison and later lived with her in Paris and London. Mirrlees wrote one major poem, Paris (1920), the missing link between French avant-garde poetry and her friend T. S. Eliot's The Waste Land (1922) ; her novel Lud-in-the-Mist (1926) is an acknowledged classic of fantastical literature. An earlier version of Hope-in-the-Mist was published in the journal Foundation in 2003.
Hope-in-the-Mist includes " A Lexicon of Lud " prepared by Michael Swanwick (published in shorter form in The New York Review of Science Fiction in July 2005).
The original edition of Hope-in-the-Mist was published 10 July 2009 at Readercon, in an edition of 230 copies, with illustrations including a frontispiece by Charles Vess. 30 copies, hand bound in Asahi book cloth with Ann Muir marbled endsheets, signed by Michael Swanwick and Neil Gaiman, and with the frontispiece signed by Charles Vess. Trade issue, 200 copies in pictorial card wrappers. ISBN : 0-976-4660-5-8 / ISBN 13 : 978-0-976-4660-5-5. The hand-bound issue was fully subscribed before publication, and the paperbound issue sold out in 4 months.
Michael Swanwick is author of What Can Be Saved from the Wreckage ? (2007), a monograph on American author James Branch Cabell. His novels include The Iron Dragon's Daughter, Jack Faust, Stations of the Tide, and Chasing the Phoenix, and his short story collections include Gravity's Angels, The Dog Said Bow-Wow, and Not So Much, Said the Cat (new from Tachyon).
Neil Gaiman has long been a champion of Lud-in-the-Mist.
e-booke orders to : Weightless Books