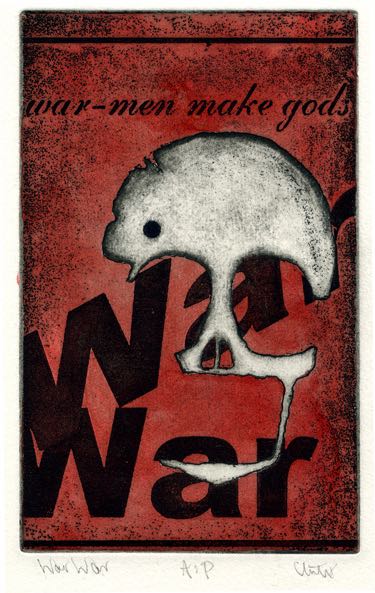 Published 31 October 2008
in Upper Montclair and London
by Temporary Culture.
Forever Peace. To Stop War
Poem by Joe Haldeman
Nine Etchings by Judith Clute
11-1/4 x 15 inches, [4] pp. + 9 original etchings (each signed by the artist).
30 copies on fine paper, letterpress printed by David Wolfe, with aquatint etchings printed by the artist from the original plates (two with added color), numbered & signed by the artist in pencil, hand bound in paste paper over boards. Twenty five copies, numbered 1 to 25, signed by the artist and author ; and five copies lettered A - E. The lettered copies were reserved for the artist, author, and printer.
An advance copy was displayed at Readercon (18-19 July 2008).
Please note the above images are reduced in size from the original etchings.
ISBN : 0-976-46604-X / ISBN 13 : 978-0-976-4660-4-8
Price : $1000 (includes shipment).
Institutional collections holding copies of the book include : the Lilly Library, Bloomington, Indiana ; and the University of South Florida, Tampa, Florida. Private collections in U.K., Switzerland, Germany, U.S.A.
Note : As of 15 September 2020, one (1) copy remains available.
Inquiries and orders to:
TEMPORARY CULTURE
P.O. Box 43072
Upper Montclair, NJ 07043-0072
USA
Forever Peace. To Stop War
Poem by Joe Haldeman
Nine Etchings by Judith Clute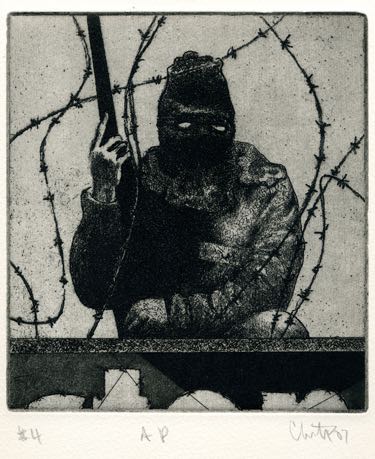 Joe Haldeman is author of the science fiction classic The Forever War (1975) and many other books. The poem was first published as " Endangered Species " in Vanishing Acts , edited by Ellen Datlow (St. Martin's Press, 1999), and was also used as the epigram to his novel Forever Free (Ace, 1999).
Judith Clute is a Canadian artist resident in London. Her work is held in collections throughout north America and Europe, and was most recently exhibited at Galleria Becker, Jyväskylä, Finland, and in the Artichoke Printmaking show at Clifford Chance, London.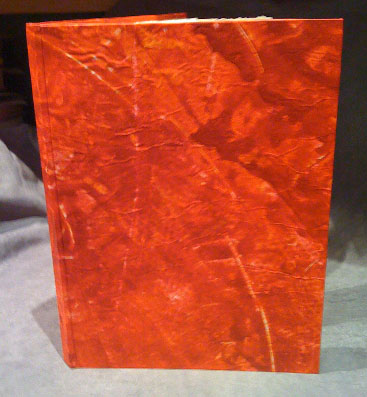 Since publication of Forever Peace , a small format edition has been prepared for distribution to members of the U.S. Senate and House of Representatives and of the House of Commons in London, and worldwide to promote peace.