The Man with the Knives by Ellen Kushner
Temporary Culture, [3 May] 2010.
6 x 9 inches.
Sewn onto linen tapes and bound in iridescent sooty red Japanese cloth with Ann Muir marbled endsheets, signed by Ellen Kushner and with the folding plate signed by the artist.
10 copies, numbered i to x, for presentation ; 11 copies, numbered 1 to 11 ; one unnumbered copy, bound untrimmed as trial binding.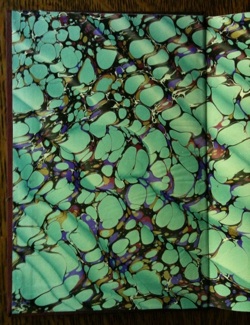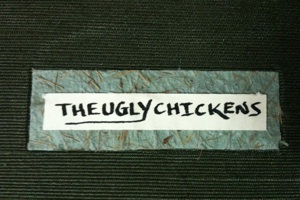 The Ugly Chickens by Howard Waldrop
Old Earth Books, [October,] 2009. Bound July 2010.
5-1/2 x 8-1/2 inches.
3 copies, bound in ivy green cloth with sage hot coconut paper endsheets, upper cover inset with hand lettered title, for presentation only, at Readercon 21, July 2010. (The edition was published for presentation at the World Fantasy Convention, 2009.)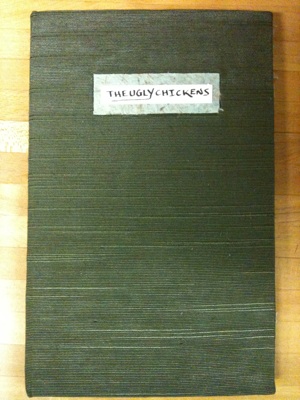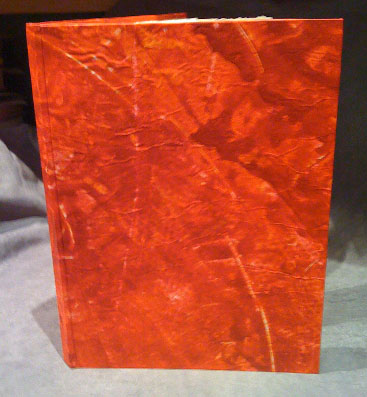 Forever Peace. To Stop War.
Poem by Joe Haldeman
Nine Etchings by Judith Clute
Temporary Culture, [31 October,] 2008.
11-1/4 x 15 inches.
30 copies on fine paper, letterpress printed by David Wolfe, with aquatint etchings printed by the artist from the original plates (two with added color), numbered & signed by the artist in pencil, hand bound in orange-red paste paper over boards.
25 copies, numbered 1 to 25, signed by the artist and author ; and five copies lettered A - E (reserved for the artist, author, and printer). Advance copy, all proofs, trial binding, in rose-red paste paper over boards, exhibited at Readercon 19 (July 2008).