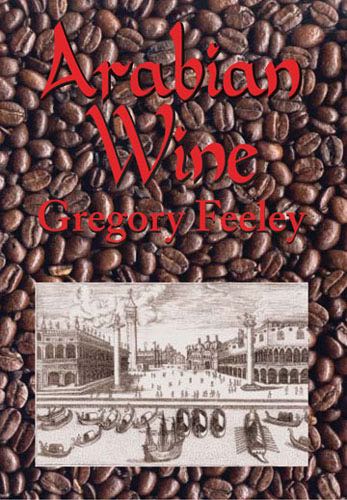 Arabian Wine by Gregory Feeley
Published 31 March 2005
in New York and Montclair
by Temporary Culture.
A short novel of coffee, and ideas, and ambition.
5 x 7-1/2 inches, [viii]+200 pp.
Subscribers issue, 10 copies hand bound in full period calf gilt by Wes Baker.
Trade issue, 300 copies bound in brown Brillianta cloth stamped in gilt,
with full color dust jacket. ISBN 0-9764660-0-7 $50.00 SOLD OUT
Author's agent : Michele Rubin, Writers House (NY)
Available in the U.S. from Between the Covers and in the U.K. from: Maggs Bros. (London).
Inquiries to :

Henry Wessells
Temporary Culture
P.O. Box 43072, Upper Montclair, NJ 07043-0072 USA
Electronym : wessells@aol.com
Arabian Wine by Gregory Feeley
A fine, funny trans-historical adventure, so well-furnished and well-wrought it seems more true than the more boring truth. Read it with a double espresso.

— John Crowley


an elegant, low-key historical fantasy [. . .] Aficionados of quirky, understated speculative fiction will be rewarded.

— Publishers Weekly 21 February 2005


Arabian Wine is not so much a book as a little piece of renaissance jewelry, densely ornate with amber and amethyst, small and perfect. Open it, and it will reward you the way Venice does, with tiny passages opening into broad squares, and sly jokes; moments of beauty and of sadness.

— Maureen F. McHugh


In this tale about the tragically brief pre-history of steam engines and coffee in renaissance Venice, Gregory Feeley has written an allegory as timeless as Machiavelli's Prince and as timely as yesterday's headlines from Guantanamo and Abu Ghraib. He also paints panoramas as telling and meticulous as any by Canaletto — especially in his depiction of the Arsenal, the first assembly line of Western Civilization. All in all, another top-notch historical fiction from a writer who is fast becoming the Walter Scott of the twenty-first century.

— Thomas M. Disch


Arabian Wine will surely stand as one of the best novels of 2005.

— Rich Horton, Locus March 2005


Arabian Wine is tightly focused and meticulously timed to unfold at its end, with the inevitability of a good play, an explosion of vision and a vision of explosion.

— Tom La Farge