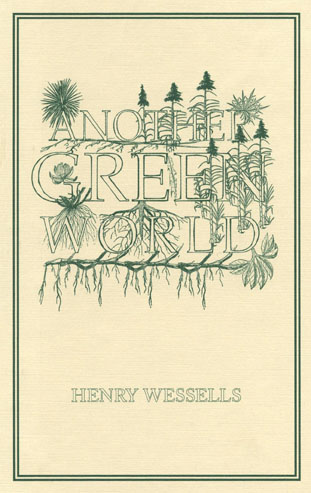 Published 28 December 2003
in Philadelphia and Montclair
by Temporary Culture.
Nine stories by Henry Wessells
Preface by Michael Swanwick
5 x 7-1/2 inches, xii+142 pp.
First issue, 15 copies hand bound by Adolphus Bindery, Austin, in half dark green oasis and nineteenth-century green marbled paper.
Trade issue (February 2004), 200 copies bound by Campbell Logan Bindery, Minneapolis, in green Brillianta cloth stamped in gilt, with printed dust jacket. Out of print.
New edition in preparation.
Inquiries to:
Henry Wessells
P.O. Box 43072, Upper Montclair, NJ 07043-0072 USA
Electronym :
wessells@aol.com
Another green world
If you don't believe in magic, read Henry Wessells and find out how wrong you are.
Guy Davenport
Bookish in the best, Borgesian sense, this collection of Henry Wessells' fiction is a quiet delight.
William Gibson
Because nothing is as real as a book. Nothing is as lasting as a dream.
Michael Swanwick
something truly strange and beautiful, even transcendent . . .
Paul Witcover, Realms of Fantasy, October 2004
["Ten Bears"], one of the best stories published in 2003 : a wonderful fantastical mystery that is also a tissue of allusions to the work of van de Wetering . . . an intricate and elegant creation, a very satisfying object.
Richard Horton, Internet Review of Science Fiction 2004
Imagine a hybrid of the Swamp Thing and Nabokov . . .
Greg Beatty, NYRSF, December 2004
Contents :
From This Swamp (The Starry Wisdom. A Tribute to H. P. Lovecraft. Ed. D. M. Mitchell. Creation Books, 1994)
Book Becoming Power (NYRSF, March 2000)
Another Green World (Nature, 15 June 2000)
The Polynesian History of the Kerguélen Islands (Exquisite Corpse 45 & 47, 1994)
The Institute of Antarctic Archaeology & Protolinguistics
Appraisal at Edgewood (NYRSF, March 2001)
Hugh O'Neill's Goose (Interzone, October 2001)
Virtual Wisdom (Exquisite Corpse 36, 1992)
Ten Bears (NYRSF, October 2003)