AGAINST THE ART OF WAR
by Ernest Hilbert and Henry Wessells
with etchings by Judith Clute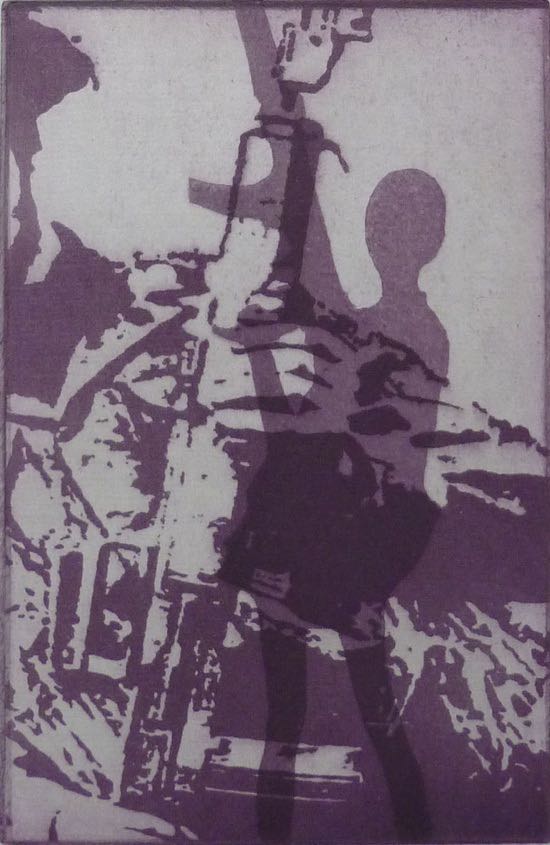 Published 15 February 2013, in San Francisco, London, and Upper Montclair.
Two original poems by Ernest Hilbert and Henry Wessells, with three aquatint etchings printed by the artist and mounted on guards.
7 x 10 inches, [16] pp., letterpress printed by David Wolfe of Portland, Maine, hand bound in paste paper boards. Edition of 26 lettered copies, signed by the authors and the artist. Five numbered copies were reserved for the artist, authors, and printer ; one trial binding, with unsigned proof etchings, and two out-of-series copies were produced for the use of publisher and artist. A fourth etching, Breaking Cover, signed and titled by the artist, was bound into all copies (see image immediately below).
Institutional collections holding copies of the book include : the Lilly Library (Indiana University), Rubenstein Library (Duke University), the Beinecke Library (Yale University), and the Library of Congress.
As of 12 April, the edition is fully subscribed and sold out. Temporary Culture thanks subscribers and patrons of the edition.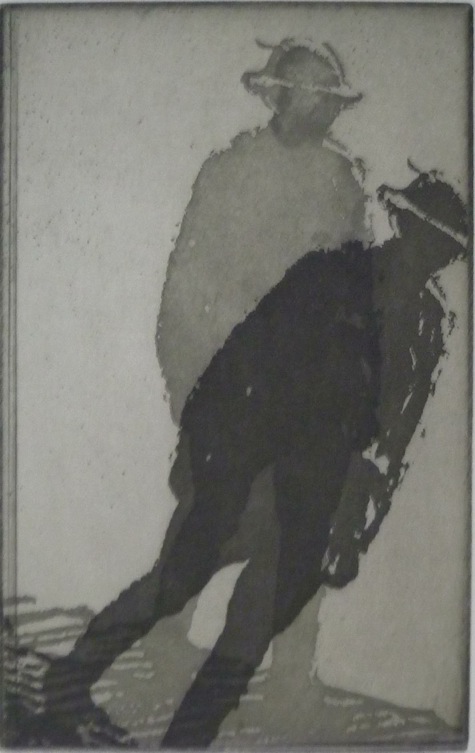 Inquiries to:
P.O. Box 43072, Upper Montclair, NJ 07043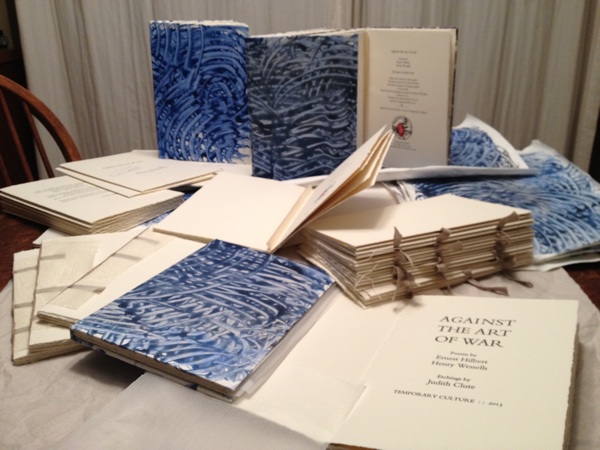 Ernest Hilbert is the author of two collections, Sixty Sonnets (2009) and All of You on the Good Earth (forthcoming in March, 2013). He lives in Philadelphia.
Henry Wessells is author of Another green world (2003) and compiler of the Endless Bookshelf. He lives in Montclair, New Jersey.
Judith Clute is a Canadian artist resident in London. In 2008, Temporary Culture published her etchings to Forever Peace. To Stop War by Joe Haldeman. She has recently exhibited work in Prague and her website is http://www.judithclute.co.uk/ .